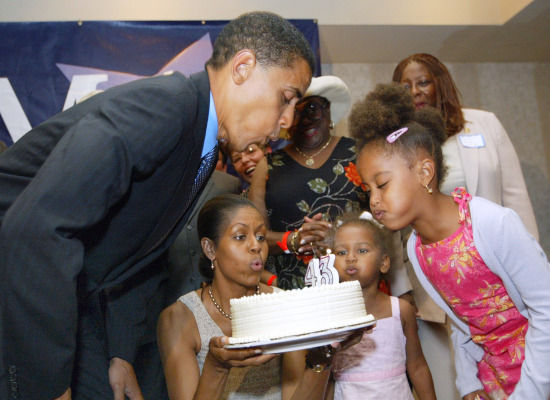 Today President Obama turns 48.
From: NPR
By

Frank James
Forty eight years ago today President Barack Obama was born, despite what the Birthers insist, in Honolulu, Hawaii.
It was 1961. John F. Kennedy, still the youngest person ever elected president at age 43, was in the White House. And with African Americans unable to sit undisturbed at many downtown lunch counters in the South, the thought that a black man would be marking his birthday a few decades later while sitting at his desk in the Oval Office would have seemed like a pipe dream to most people.
But that's where we are. America is still capable of surprising itself.
Forty-eight isn't one of the big birthdays, like those divisible by 5.
So the White House isn't planning anything big. There will be no over-the-top birthday event, like "Beyonce singing Happy Birthday, Mr. President" at a packed sports arena a la Marilyn Monroe.
Instead, Robert Gibbs, the White House Press Secretary, said he would get back to journalists with details about how Obama plans to celebrate his birthday. Gibbs was able to tell us that the president will meet at the White House with the entire Senate Democratic Caucus today. Maybe they'll favor him with a chorus of "Happy Birthday."
The notion of Senate Democrats visiting the White House on Obama's birthday led to a moment of mirth in the occasional comedy show that is the White House briefing.

Source: NPR