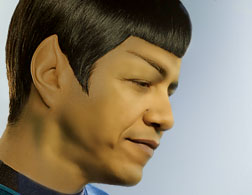 President Obama has seen the new
Star Trek
movie. "Everybody was saying I was Spock, so I figured I should check it out,"
he told Newsweek
, making the Vulcan
salute
with his hand. Some critics will see this as a new opportunity to question his
citizenship
. I think it can help them understand Obama's views about the law.
As Dahlia Lithwick
has pointed out
, conservatives have been trying to figure out what to make of the president's claim that he will look for "empathy" in his Supreme Court pick. It's not a new claim. Sen. Obama cited John Roberts' lack of empathy as the
reason he was voting against him
. (Jeffrey Toobin
argues
Obama has been vindicated.) For some, the confusion over empathy has become acute. Republican Party Chairman Michael Steele, who has promised to bring a hip-hop feel to his party,
said
: "Crazy nonsense empathetic! I'll give you empathy.
Empathize right on your behind
!" A graduate of Georgetown University Law School, Steele was not quoting case law but, apparently,
representing
.
To read more of John Dickerson's commentary go to
www.slate.com