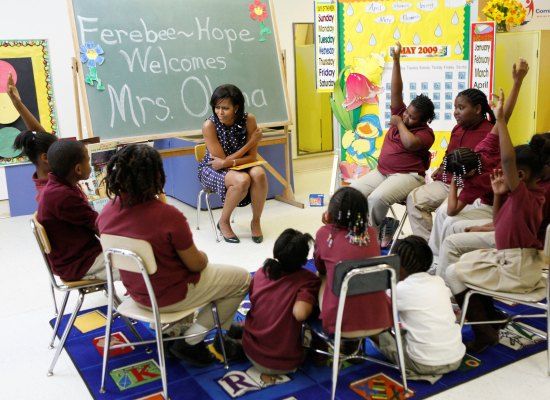 Press Release:
Communities In Schools Welcomes First Lady Michelle Obama to Ferebee Hope Elementary School in Washington, D.C.
Mrs. Obama lauds after-school programs, meets Communities In Schools group to discuss best practices to serve families
WASHINGTON, May 13 /PRNewswire-USNewswire/ -- Communities In Schools, the nation's largest dropout prevention organization, is proud to announce that First Lady Michelle Obama today visited with students participating in an after-school program at Ferebee Hope Elementary, one of their partner schools in Southeast Washington, D.C. Before spending time reading with students, Mrs. Obama addressed and met with the Communities In Schools board of directors, and listened to their presentations about the organization.
"We were delighted to have First Lady Michelle Obama visit one of our partner schools," said Bill Milliken, founder and vice chairman, Communities In Schools. "The long-term sustainability of this city -- and our nation -- is tied to the success of the public school system," he added. "There is no greater priority than ensuring all children have access to a quality education, and the community resources they need to build their futures. We all have a stake in this."
Joining Mrs. Obama at Ferebee Hope Elementary were School Principal Sharron Stroman, Communities In Schools National Board Chairman Elaine Wynn and Milliken. She visited a tutoring program and an after-school program, both run by Communities In Schools of the Nation's Capital, the local affiliate of this national organization. The visit was a special surprise for the students, when Mrs. Obama dropped in for story time today with approximately 30 3rd graders at the school.
Communities In Schools works in partnership with public schools to identify and connect students with the community resources they need to stay engaged in school. These resources are then coordinated through a school-based coordinator and brought directly to the children who need them. Examples include mentoring, tutoring, health care, after-school programs and cultural enrichment.
"We were thrilled to have Mrs. Obama at our school today," said Ms. Stroman. "For most children, school is a stabilizing force in their lives -- the place where they spend most of their days. It meant so much to have the First Lady show her support for these students."
President and Mrs. Obama have voiced strong support for community engagement and improvements in both the quality of public education and the nation's dropout rate, which is nearly 33 percent. In communities like Anacostia, where Ferebee Hope Elementary is located, the dropout rate can be as high as 50 percent. Communities In Schools is fiercely committed to supporting these communities.
Communities In Schools is the nation's largest dropout prevention organization, working in more than 3,200 K-12 public schools. Founded in 1977, Communities In Schools is headquartered in Alexandria, Va. Today, 1.2 million young people annually receive direct services through more than 200 Communities In Schools local affiliates in 27 states and the District of Columbia.
Between 80-90 percent of Communities In Schools' tracked students show improvement in academic achievement, attendance, behavior and promotion to the next grade level. Visit our website at
www.communitiesinschools.org
.
Contact: Deborah Veney Robinson of Communities In Schools, +1-703-518-2545, robinsond@cisnet.org