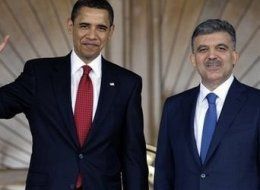 United States President Barack Obama urged Ankara on Monday to continue its active role in seeking a lasting peace settlement for Israel and the Palestinians.
"We must not give into pessimism and mistrust," said Obama, speaking in an address to the Turkish parliament. "We must pursue every opportunity for progress."
"[Turkey and the U.S.] share the goal of a lasting peace between Israel and its neighbors," he told Turkish lawmakers. "Let me be clear: The United States strongly supports the goal of two states, Israel and Palestine, living side by side in peace and security."
"That is a goal shared by Palestinians, Israelis, and people of good will around the world. That is a goal that the parties agreed to in the road map and at Annapolis," he said, referring to a 2007 U.S.-hosted regional peace summit. "And that is a goal that I will actively pursue as president."
Obama told the MPs that while all parties involved know that the path to peace will be difficult, both the United States and Turkey "can help the Palestinians and Israelis make this journey."
Read more at
Haaretz.com