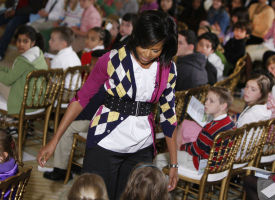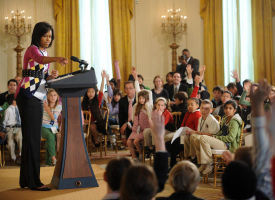 D.C. — First lady Michelle Obama pulled back the curtains a little bit on life in the White House, revealing that she and her staff like to sneak out to eat at fun places.
Three months into her new role, she said Thursday she has the best job in the White House, doesn't miss cooking and that new dog Bo is "kind of crazy."
"Every now and then I have this thing that I like to do with some of my staff members, and we sneak out, without telling anybody, and we go and test out all the fun places to eat in D.C.," Mrs. Obama told children visiting the White House.
"I went to Five Guys and nobody knew it," she said, naming a popular chain of hamburger restaurants. "It was good."
Michelle Obama spoke to children of executive branch employees on Thursday for "Take Your Children To Work Day
To read more on this story,
click here